Two comfortable and welcoming gites in the heart of the historic city of Saintes

Holiday accomodation in the heart of the city
 Backing onto the ancient capital of the city of Saintes and opening onto the charming little theatre square, the "theatre annexes" benefit from being located in the heart of the city.  They are a short walk from the river, the Roman amphitheater and the Germanicus arch and close to the preserved old quarters of the Abbaye-aux-Dames and the Saint Pierre cathedral.
Saintes is a welcoming city with a diverse cultural life. There are daily markets offering local produce from vegetables to seafood.  In the many street cafes and restaurants  you can experience both traditional and modern cuisine; from French gastronomy, to sushi to vegan, there is a menu to suit you.  But it's not just restaurants that line the streets of this city.  Explore the boutiques, antique shops, art galleries and museums all within walking distance of your holiday accommodation.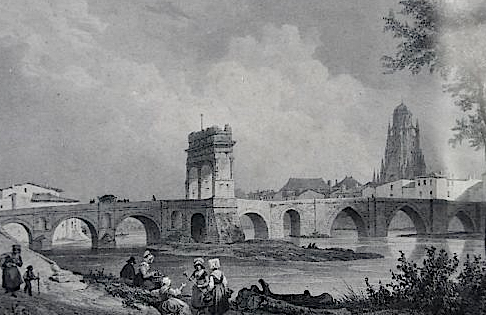 As the historical capital of Saintonge since the time when it was called Mediolanum, today's Saintes remains faithful to its role as the capital of the region. The area is steeped in history from the 100 years War , the Gallo Roman era and the religious wars that have all helped shape its landscape and culture.  Visitors to the area are never far from examples of this history from the many Romanesque villages, beautiful abbeys, vast vineyards, castles and chateaux
Saintes is also within easy distance of the surrounding cities, beaches and salt marshes.  To the North the beautiful city of La Rochelle and the Poitevin marsh, to the East the vineyards of Cognac, to the South the cosmopolitan city of Bordeaux and to the West miles of Atlantic coast, national forests and oyster farms.
For those wishing to experience an area steeped in history but which also embraces the contemporary, Saintes and its surrounding regions will not disappoint!

L'ANNEXE DU THEATRE : 5 Place du Théatre – 17000 SAINTES FRANCE
– Located 3 km from the Saintes motorway exit, in the Saintes – La Rochelle – Rochefort-Saint Jean d'Angely – Cognac – Royan- Ile de ré- Ile d'Oleron area.
1 km from the Saintes's train station and 120 km from Bordeaux and Merignac airport.
– 35 minutes from the sea (Saint Georges de Didonne) by car.